Competence of Indian Auto component Industry
The Quality consciousness of the Indian manufacturers has resulted in receiving maximum number of Deming awards & Japanese Quality medal winners outside of Japan by any country.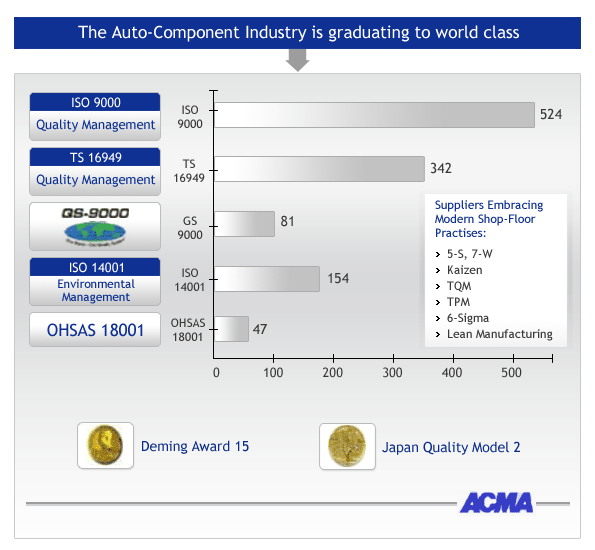 The competence are as a result of following advantages that the Indian companies enjoy:
A technical talent pool in all areas of manufacturing resulting in comprehensive product range
Presence of virtually the entire gamut of OEM's in India bringing in their expertise & sharing their technical know how with the Indian auto component manufacturers
Proficiency in Understanding Technical Drawings,specifications and well conversant in all Global Automotive Standards : American, Japanese, Korean,European Standards etc.
Appropriate Automation leading to economic production costs
Flexibility in small-batch production.
Growing IT Capability for Design, Development & Simulation
Low Infrastructure costs
An Excellent base for Prototyping, Testing, Validating and Productionizing of Auto-Components.
Practicing of lean manufacturing techniques resulting in continuous cost reduction.
Future potential of Indian Automotive Industry.
The Indian Automotive Industry is poised for an exponential growth as indicated in the "Automotive mission plan 2006 – 2016" and is recognized as one of the India's GDP growth drivers.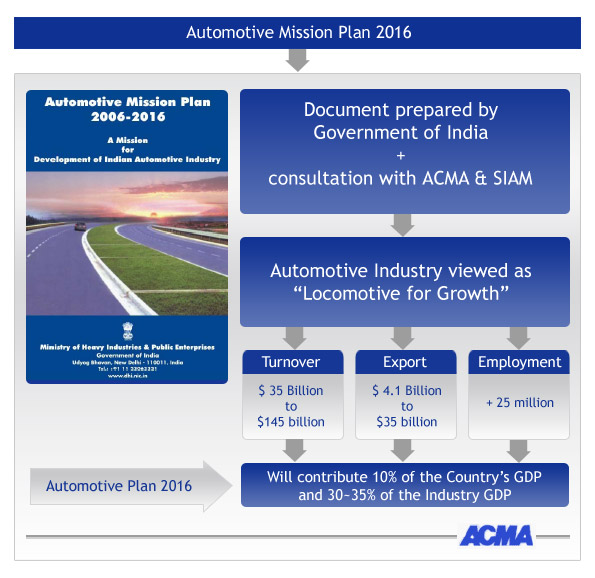 The following are the reasons for the bright potential of the Indian Automotive Industry:
A Demand based Growth Oriented Economy
Global Integration of the Economy
Entry of Global Automobile majors
India's huge geographic spread – Mass Transport System
Increasing Road Development resulting in more movement of goods and hence more vehicle sales
Easier finance schemes
Increasing disposable income with the service sector
Growing Concept of Second Vehicle in Urban Areas