Partners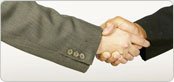 Fukui Kasei Group
Fukui Kasei Co Ltd, Japan was established in the year 1941 and is a trusted Global sourcing company under the Presidentship of Mr. Yasuo Fukui.
The company specializes in procurement of Rubber, Metal & Plastic Components catering to Agriculture machinery Industry, Heavy Construction Machinery Industry, Automobile Industry, Air Conditioner Manufacturers, Electronic product manufacturers and other industries all over the world.
Some of the major customers are Daikin Industries , Yanmar Co., Ltd, Kubota Corporation, Iseki & Co. Ltd, Mitsubishi Electric, Daikin Industries, Mori Seiki Co. Ltd, Okuma Corporation, Yamazaki Mazac Corporation.
The group has 4 manufacturing facilities, 5 sales offices & 4 warehouses with its head office at Osaka, Japan.
Black Rose Group
Black Rose Group, India was established in 1994 and has over the years become a prominent business house.
The group has varied interests in Chemicals distribution, Textile manufacturing, Logistics, Industrial Safety Solutions, Food marketing & distribution amongst others.
They have a very strong international exposure with customers & associates across continents.